The Dangers of Drunk Driving – Don't Drink and Drive
Free High-Risk Insurance Comparison
Secured with SHA-256 Encryption
UPDATED: Jun 22, 2022
It's all about you. We want to help you make the right coverage choices.
Advertiser Disclosure: We strive to help you make confident insurance decisions. Comparison shopping should be easy. We are not affiliated with any one insurance provider and cannot guarantee quotes from any single provider.
Our insurance industry partnerships don't influence our content. Our opinions are our own. To compare quotes from many different companies please enter your ZIP code on this page to use the free quote tool. The more quotes you compare, the more chances to save.
Editorial Guidelines: We are a free online resource for anyone interested in learning more about auto insurance. Our goal is to be an objective, third-party resource for everything auto insurance related. We update our site regularly, and all content is reviewed by auto insurance experts.
The Truth Brought To Life
Would you be surprised to know that 70 million people in the US have driven drunk at least once?
In a 2008 study conducted by the National Highway Traffic Safety Administration, it showed that 20% of drivers ages 16 and older drove within two hours of consuming alcohol within the past year.
By the same token, 8% of the drivers surveyed revealed that they had driven with a driver that seemed drunk. This posed the biggest issue among men between the ages of 21 to 24. Within this age bracket, 24% of drivers confirmed that they had ridden with a driver that was impaired.
It's estimated that 8% of all drivers have driven impaired within the course of a year.
Compare quotes from the top car insurance companies and save!
Secured with SHA-256 Encryption

What Is Drunk Driving
Although "drunk driving" is a catchphrase thrown around by law enforcement and public service ads on TV, it's a sobering thought to consider that drunk driving is actually a crime. Operating a vehicle with an excess amount of alcohol in your blood is a violation of both state and federal law.
Drunk driving can be better understood by examining the blood alcohol content of a driver, also called a BAC. BAC is measured based on grams of alcohol per 100 mL of blood. If a driver has a BAC of .01, it means that there is .01 g of alcohol per 100 mL of blood in the body.
Since July 2004, it has been illegal in all 50 states and the District of Columbia to drive with a BAC over 0.08.
Of course, this takes for granted the fact that a driver is of legal drinking age. For drivers under the age of 21, it is a zero-tolerance policy. Even though a driver may be an adult over age 18, they are still not permitted by law to have a BAC above zero until they reach the age of 21.
Other countries around the world have conservative BAC limits for drivers:
0.02
China, Sweden, Poland
0.03
Chile, Japan, Belarus
0.05
Austria, Denmark, Belgium
0.00
Bangladesh, Fiji, Brazil
0.00
Hungary, Pakistan, Saudi Arabia
0.00
Nepal
Blood alcohol level depends on:
Drinks (possibly Impaired; legally Intoxicated)

Body Weight (Pounds)
To put the severity of drunk driving in perspective, consider these statistics provided by Mothers Against Drunk Driving:
One in three people will be involved in an alcohol-related accident in their lifetime.
The average drunk driver will drive impaired 80 times before an arrest.
1 person died every 53 minutes in a drunk driving crash.
211 children were killed in drunk driving accidents.
Roughly 300,000 unreported drunk driving incidents were confirmed per day.
Drunk driving costs the average taxpayer roughly $500 a year.
Drunk driving costs the United States $132 billion a year.
What a DUI Arrest Means to You
While all states in the US take a drunk driving offense seriously, more states are pushing for even stricter DUI laws. Gov. Markell of Delaware recently signed two new bills to pass a law to increase DUI penalties in the state. In particular, previous offenders with more than five DUI convictions will receive more jail time; a DUI will become a felony for drivers with six and seven convictions.
In Missouri, a new law is under consideration to make it mandatory to install an interlock device on a car's ignition after a single DUI offense. Currently, state law dictates that anyone with more than one DUI will be sentenced to use an interlock device in order to drive.
Montana hopes to take it a step further to make DUI arrests even tougher on teen drivers. In a recently proposed bill, juveniles that are involved in a deadly DUI accident will be charged for the crime as adults.
Before you even think about taking the risk of driving impaired after a night of fun, consider the penalties that could await you after a DUI arrest:
A suspected DUI driver will be pulled over for a traffic stop and given a field sobriety test. If the test is failed, a driver may be given a breathalyzer; if their blood alcohol content exceeds the legal limit, they will be placed under arrest for DUI.

Once arrested, the driver will be taken to a local jail or police station for booking. Details of the crime will be recorded, and a mug shot and fingerprints will be documented. All personal property will be confiscated at this time.
After release, a driver will await a court date; before that time, they may choose to hire an attorney or represent themselves in court.
Depending upon the state and severity of the offense, bail may be posted or a driver may be released to a sober party once they have been given a court date. In some situations, a driver may have to wait in jail for a hearing from a judge to determine their bail amount.
In court, if a driver is convicted of a DUI offense, they will have to pay court costs and a fine and face the suspension of their driver's license. Many states now require mandatory jail time, even for first-time DUI arrests. A driver charged with a DUI is also likely to be placed on probation and will have to perform community service.
Most convicted drivers will have to go through some type of driver's education in order to earn their license back. In many states, a driver's license will be re-issued on a restricted basis after 30 days to drive to work and school only.
Finally, a convicted DUI offender will have to take alcohol awareness and treatment classes and attend a support group or counseling before they are deemed rehabilitated.
While consequences will vary greatly by state, here are some of the DWAI and DUI
penalties that a driver can expect after an arrest:
Offense (1st DWI)
Jail term range (2 -180 days)
Mandatory jail (none)
Maximum jail (180 days)
Fines ($200 – $500)
Public service (24 – 48 hours)
It's difficult to pinpoint the exact penalties that may be incurred for a DUI arrest since laws differ by state. However, it's important to keep in mind that every drunk driving offense has the potential for a jail sentence, depending on how a judge rules on the case.
In most states, it is common for a drunk driver with a second conviction to face mandatory jail time. Habitual drunk drivers could be sentenced to long-term jail time with up to five years of incarceration.

How Does a DUI Affect Car Insurance Rates?
In light of the many penalties listed above, the "fun" of a DUI arrest doesn't stop there. After the dust has settled and community service has been completed, a driver will still experience the repercussions of a DUI for years to come as their car insurance rates rise considerably.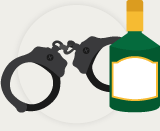 Even one DUI arrest can categorize you as a high-risk driver.
As a conservative estimate, a first DUI conviction could cause car insurance rates to skyrocket by thousands of dollars. In some cases, your car insurance company may choose to reject you altogether because of this offense, forcing you to move on to another insurance provider.
On average, a DUI arrest will stay on your driving record for up to 10 years. Some states like California cause drivers to incur serious expenses for a DUI arrest with insurance rates that could double or triple over this time period. As an example, if you are only paying liability coverage on an older vehicle, a DUI arrest could increase insurance rates to cost you up to $10,000 extra within just three years.
After a DUI arrest, you will be required to provide a SR 22 insurance proof form to your local DMV in order to reinstate your license. To receive this proof of insurance form, you will have to come clean with your insurance company about your DUI arrest and agree to a new car insurance plan with modified rates.
Although many drivers may prefer to keep their DUI under wraps to prevent an over-inflated car insurance premium, this simply isn't possible if you want to get your license back. Your insurance company will have to provide you with a legal SR 22 form that must be submitted to the Department of Motor Vehicles before you are permitted to drive again.
How Long Will It Take for a DUI to Go Off Your Record?
Most state DUI laws will require that a DUI offense stays on your driving record for a set amount of time. However, it is possible that a DUI could remain on a driving record indefinitely.
In this instance, you will have to communicate with the Department of Motor Vehicles in your state to determine how to expunge an outdated DUI from your driving record. Experts often recommend hiring an attorney for this task to clear your driving record of an old DUI offense that may continue to affect insurance rates.
As estimated above, you can expect a DUI to stay on your driving record for a minimum of 10 years. In states like Tennessee, a DUI offense will remain on your driving record for life.
Drunk Driving Fatalities Are No Joke
The Mothers Against Drunk Driving organization provides countless stories of lives that were cut short or damaged irreparably because of a drunk driver.
Take the story of Brian Wood who was driving with his wife; she was seven months pregnant with their first child. As Brian saw a car driven by a drunk driver veer toward them in their lane, he turned his vehicle right so that the driver's side would shield the crash from his wife and unborn child. As a result, Brian was killed in the crash, and his wife and unborn baby lived.
In a similar story, 21-year-old Elaina Luquis-Ortiz was on the side of the road helping a friend with a flat tire. As they were waiting for a tow truck to arrive, a drunk driver with a BAC over three times the legal limit hit them. Elaina was six months pregnant with her first child at the time; both died at the scene of the accident.
Drinking and Dying
Most of those killed in crashes involving intoxication are drunk.
Drunk pedestrians and bicyclist

Sober pedestrians and bicyclist
Drunk Drivers
After hearing these tragic stories, you may be asking yourself a familiar question. Why on earth would anyone get behind the wheel impaired when it could cost someone else their life?
Unfortunately, very few drivers realize how drastically alcohol can affect them behind the wheel. Alcohol is a depressant that slows down central nervous system activity, including brain response. Alcohol can impair a driver in the following ways:
Judgment – A driver loses their ability to make responsible decisions with a BAC as low as .02.
Concentration – A driver has difficulty redirecting attention and focusing on a single action.
Comprehension – A driver may become easily confused and can have a hard time interpreting road signs and signals.
Coordination – A driver is unable to coordinate fine and gross motor skills, like putting a key in an ignition or walking to a car.
Vision/Hearing – Driving impaired can reduce vision acuity by close to 32%
Reaction – A driver will have a hard time understanding a situation with a slowed reaction time ranging from 15-25%.
Compare quotes from the top car insurance companies and save!
Secured with SHA-256 Encryption
How to Prevent Drunk Driving
Perhaps one of the most familiar organizations that crusades against drunk driving is MADD – Mothers Against Drunk Driving since 1980. MADD is a nationally recognized nonprofit organization that was started by a mother of a 13-year-old girl who was killed by a drunk driver.
MADD began as a grassroots organization and has since transformed into a widespread campaign to eliminate drunk driving by:
Supporting law enforcement heroes that catch drunk drivers.
Requiring in-car breathalyzers for all drunk drivers to prove sobriety before getting on the road.
Supporting the development of new technology to improve roadside sobriety tests.
Since drunk driving is such a serious matter that could affect you or the ones you love, campaigns run regularly throughout the US to raise awareness, like Stop Impaired Driving from the National Highway Traffic Safety Administration, the Holiday "Don't Drink & Drive" Campaign by the Texas Department of Transportation, and the familiar Friends Don't Let Friends Drive Drunk campaign by the US Department of Transportation.
Although drunk driving continues to be a nationwide epidemic, it is easy to reduce the risk of a fatal DUI crash by refusing to get behind the wheel impaired. Other steps can be taken to reduce drunk driving risk factors, like:
Enforcing .08 BAC limits in each state
Increasing alcohol taxes to prevent binge drinking.
Changing company policies to restrict work driving privileges for employees with a DUI offense.
Screening patients in doctors' offices for high-risk drinking patterns, like binge drinking.
Always designating a safe driver before drinking with a group
Requiring all passengers in a car to wear seatbelts, even for a short trip.
Nationwide, law enforcement officials are doing their part to reduce drunk driving on the road by increasing sobriety checkpoints in some areas. Yes, that's right – sobriety checkpoints have been proven to be an effective tool to reduce DUI fatalities by up to 20%.
Yet a number of bar and restaurant associations have opposed sobriety checkpoints, including the American Beverage Institute, because of their unfairness to the average citizen. Critics of sobriety checkpoints believe that they overlook the real cause of the drunk driving phenomenon – hardcore alcohol abusers that get behind the wheel.
Nonetheless, statistics don't lie. Sobriety checkpoints have been proven effective for repeat and first-time DUI offenders who may drive drunk dozens of times undetected, risking the lives of innocent drivers.
Check Yourself BeforeYou Wreck Yourself
Though it may be tough to admit, you may have gotten behind the wheel "just once" with a few too many drinks in your system. Believe it or not, this happens more often than people realize as impaired drivers try to keep their slipups under wraps.
If you don't want to take an innocent life or end up in jail, driving while intoxicated is never worth the risk. Only takes one time to cause a fatal crash or get arrested for a DUI.
You can:
Sober driving 100% of the time.
Communicate to friends and family.
Offering to drive.
Pay for a cab.
Hold onto their keys until they sober up.
In this type of delicate situation, practice makes perfect. A drunk friend may accuse you of butting in or acting overprotective, but saving a life is significantly more important than trying not to hurt a friend's feelings. To stop a fight before it starts, communicate with friends and family about an alternate transportation solution before a night of fun.
It's recommended to call a cab or shuttle service before heading out to the bars for the night. You can also ask a sober friend to be the designated driver for the evening and offer to pay for their gas and food for the night to sweeten the deal. Other options to avoid drunk driving include staying at a friend's house overnight, booking a hotel, or calling a family member to come and pick you up.
Even though it may seem easier at the time to drive yourself home so that you don't have to worry about your car getting towed, it's never, ever worth the risk. In an instant, your life could change forever when you see red and blue lights in your rearview mirror or are the cause of a fatal crash.
Your DUI Questions Answered
The only way to save a life and prevent drunk driving is by becoming an informed driver. Here are answers to some important questions that could help you prevent a DUI arrest or crash:
Q:
How many drinks does it take to cause a fatal accident?
This is a tough question to answer at face value since it is difficult to predict what will cause a fatal accident. However, it's important to always
stay within legal limits of a BAC lower than .08 if you are
over 21. If you are a man or woman of an average
weight, two drinks could bring you to this limit;
weight, gender, body fat, eating, and time between
drinks will also affect blood alcohol concentration.
Q:
When are you most likely to get into a DUI accident?
A:
31% of fatal drunk driving crashes occur on the weekend compared to 16% of crashes during the week.
Alcohol impairment in a driver increases dramatically at night, up to four times more than daytime driving.
Q:
Who is most likely to get into a DUI accident?
A:
Based on fatal crash statistics in 2010, the highest percentage of drunk drivers were aged 21 to 24, followed by ages 25 to 34 and 35 to 44 respectively.
Men are more likely than women to drive under the influence.
Q:
How likely are teenagers to drink and drive?
A:
Since there is a zero-tolerance policy for drivers under the age of 21, teenagers are not permitted by law to drive with alcohol in their system. Nonetheless, 2010 statistics confirm that:
of 16 and 17-year-old drivers drove under the influence.
of 18 to 20-year-old drivers drove under the influence.
Among male drivers ages 15 to 20 who were involved in fatal crashes in 2010, 25% of drivers were under the influence of alcohol.
Compare quotes from the top car insurance companies and save!
Secured with SHA-256 Encryption
Sources:
The New Haven Register – Serving New Haven, Connecticut." Connecticut News – CT News | The New Haven Register. Web. 24 Jan. 2013.
MADD -Drunk Driving Statistics." MADD -Mothers Against Drunk Driving. Web. 24 Jan. 2013.
MADD -Archives." MADD -Mothers Against Drunk Driving. Web. 24 Jan. 2013.
National Highway Traffic Safety Administration (NHTSA), Dept. of Transportation (US). Traffic safety facts 2010: Young Drivers . Washington (DC): NHTSA; May 2012 [cited 2012 Sept 28 ].
R. A. Shults, et al., "Reviews of Evidence Regarding Interventions to Reduce Alcohol-Impaired Driving," American Journal of Preventive Medicine 21 (2001): 66-88.